Blossoms
Inhaler Roman Lewis
Wed,
Nov 13
Doors:

7:30 pm
|
Show:

8:00 pm
Tickets: $20.00
Ages 21 and Up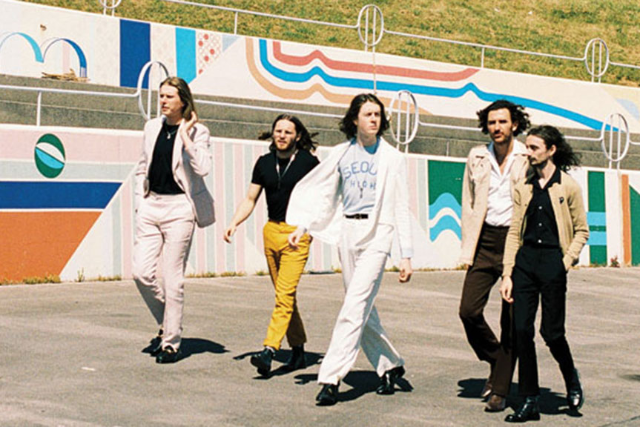 Artists
Blossoms
British rock quintet Blossoms formed in Stockport, a town just outside of Manchester, England, in 2013. Started by school chums Tom Ogden (vocals, guitar) and Joe Donovan (drums), the band later incorporated Charlie Salt (bass, vocals), Josh Dewhurst (guitar), and Myles Kellock (keyboards, vocals). Their sound was pigeonholed as psych-pop, which the band didn't like; rather, they hit a sweet spot between the Doors and Arctic Monkeys, combining a knack for classic pop songwriting and moody organ atmospherics with a youthful energy. Ogden's delivery occupied the space between Richard Ashcroft (the Verve) and Alex Turner, of the aforementioned Monkeys, as the band slithered from spooky, groovy warmth to peppy Brit-pop. Debut single "You Pulled a Gun on Me" was a fine example of this combination, and the band continued to develop on subsequent singles "Blow" and "Cut Me and I'll Bleed." 2015 saw the release of two EPs -- Blown Rose and Charlemagne. As the band gained exposure, they released another EP, At Most a Kiss, in February 2016. The four-song set featured some new elements to the band's sound, including prominent synths and a more driving urgency. A month later, Blossoms revealed plans for their debut full-length. The self-titled Blossoms was released in summer 2016, topping U.K. and Scottish charts. Months later, they bolstered the effort with an extended edition that included ten additional songs. In early 2018, Blossoms issued the singles "I Can't Stand It" and "There's a Reason Why (I Never Returned Your Calls)," which both appeared on their sophomore effort, Cool Like You, an even further pop-leaning record that arrived in April. ~ Neil Z. Yeung, Rovi
Inhaler
Meeting at school in 2012, and assuming their current line up in 2016,
INHALER
is a Dublin four-piece rock and roll band. Finally finished school in Summer 2018, the guys spent their time writing and rehearsing and gigging around Ireland, with occasional slots in the UK.
Their debut single 'I Want You' is included on the 2017 "This Is Garageland – Volume 1", an album showcasing up and coming Irish acts, while Hot Press magazine featured INHALER in their "Hot for 2018" lost.
Having completed the Leaving Certificate in June 2018, they continue to fine-tune their live set, and focus on recording and releasing a growing repertoire of their own material. They featured in the line-up for their first festivals (Indiependence and EP) in 2018, and sold out their first headliner in Whelan's Dublin on Sept 8th. In the final part of 2018, they have supported The Sherlocks, Blossoms, The Coronas, Picturehouse and toured with The Academic.