Claire George, The Y Axes, Maiah Manser
The Y Axes Maiah Manser
Sat,
Oct 26
Doors:

8:30 pm
|
Show:

9:00 pm
Tickets: $13 ADV - $15 DOOR
Ages 21 and Up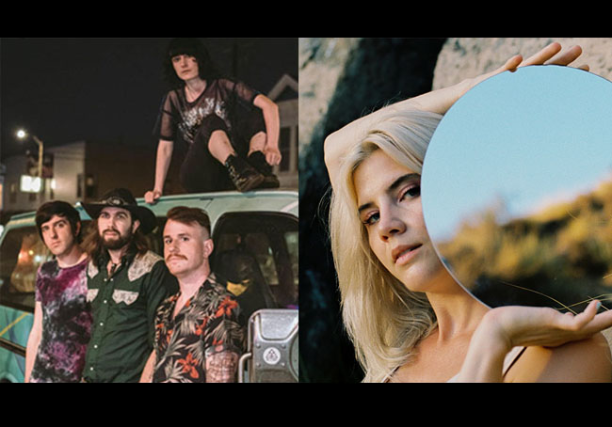 Artists
Claire George
Claire George is a songwriter with wide eyes and a natural sense of wonder. You can hear it on single "Orbits" when she sings, "Everything you are is a miracle." The track, which references Carl Sagan's infamous golden records of the star-bound Voyager probes, also speaks to the other miracles of creation — youth, love, and humanity. It's this particular blend of boundless awe and cosmic curiosity that Claire George channels into her work, and that makes her new EP, Bodies Of Water, so engaging. Across the EP's five self-written and self-produced tracks, she combines an imaginative melodic sensibility with swirling electronic productions, crafting a clear vision for her debut. Claire's voice will be familiar to some in the electronic space. She's previously worked as a topliner, providing the vocal lines to tracks by dance artists Luttrell, Valy Mo, LP Giobbi and others. She also formerly served as the lead singer for the San Francisco act HEARTWATCH, but after disbanding in 2016, Claire decided to turn her focus inward. Seeking space and seclusion, she moved north for a quieter setting outside Seattle, near where she grew up. "At the same time my band split, I went through a break-up and a series of family traumas, quit my job, and left my community in San Francisco," she said. "I had always been an extrovert, so living in isolation for a year and a half was a huge change for me. It was a period of solitude unlike any other I had ever experienced in my life." Coming to grips with her self-imposed stillness, Claire struggled with anxiety and feelings of groundlessness, which she channeled into her musical practice. As a songwriter, she was used to having other voices in the room, whether working with her former band or with producers on vocal collaborations, but this was the first time she was writing, recording and producing entirely on her own, from the ground up. Moreover, while major cities like San Francisco are stimulating, they can also be noisy; so often the inspiration we find when surrounded by the output of our contemporaries also clouds our creative point-of-view. Detached from her previous projects and surroundings, Claire was able to experiment freely. "This was the first time the genesis of a song started entirely from me, so I just really allowed myself to explore," she said. "The creation process felt like a form of meditation, though often extremely frustrating. I was still learning how to produce as I was writing and creating, so everyday was a new experience with new challenges." Though difficult, the solitude proved rewarding, and Claire was able to find and refine her voice in the process. In 2018, she felt the present creative chapter closing and decided to relocate to Southern California to finish the material she had generated over the past two years. Claire's diligent approach paid off, resulting in the singularly captivating Bodies Of Water EP. Opener "Where Do You Go?" serves as an introduction to her reflective lyrics and shimmering electronic atmospheres. "Orbits," a low-key pop jewel that swells around an ingenious vocal sample and a swooning chorus, was featured on a recent compilation from Kitsuné, and appears here as the lead single. Claire similarly shines on the winsome and considerably more uptempo "Second Guesses," as well as the synth-driven, slow-burning album closer "Lonely Or Alone." Thematically, Claire paints an impressionistic picture of the transformative journey of love, the traumas surrounding the loss of youth and the ambivalence at the intersection of the two. "This record reflects a lot on changing relationships and on the role of solitude in developing a closer relationship to oneself," she said. "My whole project is influenced heavily by my need to look inward, to understand isolation intimately, to come to terms with changing relationships, and to build a healthy relationship with myself." Claire weaves those threads of self-awareness throughout the EP, from her deft production, to her striking vocal delivery, to her subtly nuanced perspective. Overall, Bodies Of Water is an undeniably strong body of work from a confident new voice, made all the more wondrous with each repeat listen. Bodies Of Water is out November 16, 2018 on Cascine.
The Y Axes
The Y Axes are a San Francisco-based indie outfit who play a unique blend of dreamy, synth-glossed pop and rhythmically robust rock. Having initially formed as a recording project by vocalist Alexi Rose Belchere and guitarist Devin Nelson, the duo decided to take on the project full time after premiering a set of songs at their space and prom-themed joint birthday party in July 2011. Bassist Jack Sundquist and drummer Paul Conroy joined in 2015 and early 2018 respectively to contribute their groovy and heavy rhythms to the quartet's energetic recorded and live performance. Their sound has been described by Consequence of Sound as "strange mix of joy and existential dread" and their performance has been earned them the label of being "one of San Francisco's most energetic bands" by The Bay Bridged. Their latest album, "No Waves" was mixed and produced by Aaron Hellam in Oakland, California and released June 6, with videos for singles "Moon" directed by George S. Rosenthal and "Get Away" released shortly after.
Maiah Manser
Los Angeles-based, noir-pop songstress Maiah Manser dissolves differences and builds bridges between the worlds of automation and nature. The grit and the raw in lyrics combined with her hauntingly powerful vocals, drive together to create a chilling sensation that is both concrete and abstract, in sound and in concept.As a student in Seattle, she met Mary Lambert; that chance meeting opened the door for an opportunity to tour with Lambert as a backing vocalist, opening for artists like Sam Smith, Ariana Grande & Pharrell Williams.

At 20 years old she started her professional career as a solo artist. During her solo career, Maiah has shared the stage with artists such as Bishop Briggs, CHVRCHES, Crystal Castles & ODESZA. Teaming up with Buddy Ross (Producer: Frank Ocean, HAIM, Unknown Mortal Orchestra), Phillip Peterson (Strings: Taylor Swift, Cashmere Cat, Santigold, A$AP Rocky), and the late Tom Coyne (Mastering: Adele, Beyoncé, The Weeknd), Maiah Manser's debut Second Skin EP was released in spring 2017.

Since moving to Los Angeles from Seattle in 2017, Maiah has sonically explored a new side to her artistry in her recent releases with glistening yet edgy pop production.