Cris Jacobs Band | King Dream
Thu,
Mar 26
Doors:

7:30 pm
|
Show:

8:00 pm
Tickets: $15.00
Ages 21 and Up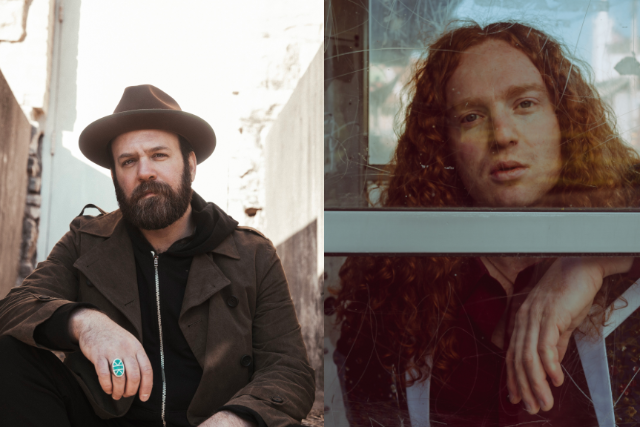 Artists
Cris Jacobs Band
When Cris Jacobs began dreaming about a follow-up to his critically acclaimed 2016 album Dust to Gold, he realized early on he'd have to do things differently this time around. His life had changed drastically since writing those songs: he'd toured extensively and attracted a legion of new, devoted fans; he'd come off the road into a world, with its divisive rhetoric and troubling headlines, he no longer recognized; and, most importantly, he'd gotten married and had his first child. Things had changed, and Jacobs had, too. Color Where You Are is the work of an artist at an exciting new stage in his life and career, ready to use his talents to share a little beauty with the loved ones and fans who have already given so much to him. The title nods to Jacobs' experience writing the album, which, as he puts it, he had to do "between tours, coming home, changing diapers, fixing things around the house.... You name it." He no longer had the luxury of waiting for inspiration to strike, so he colored where he was. "It was a new discipline for me and a new level of focus that I think brought out the best work," he explains. "I feel like I grew up a little bit. There are people in my life who I truly care about and things in the world I feel deeply about. That really pushed me in a stronger direction and forced me to feel things on an honest level." Opening track "Painted Roads," with its soulful groove and clever arrangement, is the perfect encapsulation of just how far Jacobs has come since releasing Dust to Gold. Jacobs is selfassured and confident in his soulful, infectious vocal, while his lyrical craftsmanship shows Jacobs to be a thoughtful songwriter who continuously strives to grow and evolve. "It's about choosing to live in the present, and see the everyday details of the world, rather than postponing living or paying attention in hopes of some distant prize or destination," Jacobs says of "Painted Roads." "We get so caught up in 'success' and ambition, and are so goal-oriented, that we sometimes lose sight of the beauty in the everyday. 'Color where you are' is the notion of creating beauty now, no matter the circumstance." "Painted Roads" was one of the first songs Jacobs and the band (who co-produced the album together) recorded for Color Where You Are, with his band mates taking Jacobs' original Tom Petty-inspired arrangement and giving it an off-kilter, syncopated groove. For the first time, Jacobs wrote the bulk of the album's songs in the studio, camping out at Richmond's Montrose Studios to flesh out "germs and ideas that had been floating around" with band members Todd Herrington (bass), Dusty Ray Simmons (drums/percussion) and Jonathan Sloane (guitar). "I booked the studio time and put a gun to my head and that sometimes works," Jacobs says. "In this case it did. It feels like a specific time period and specific vibe and emotional space that came through in all of these songs. It was a really organic process." While life as a family man changed Jacobs' perspective (and schedule), current events also had a profound impact on Jacobs' songwriting, with commentary on social and political issues finding its way into tracks like "Afterglow" and "Under the Big Top." Color Where You Are is a hopeful affair, though, with Jacobs employing thoughtful criticism and messages of empowerment instead of wallowing or ruminating. "The political climate is causing a different sort of energy and angst in me that's never been there before," he explains. "It's not a political album by any means, but those forces out there certainly dictated a lot of the writing on this record." On "Afterglow," Jacobs searches for optimism and healing in trying times. His emotional vocal is buoyed by a passionate, swelling performance from the band, making the track one of Color Where You Are's most poignant moments. "It's about the hope that after the storm we are currently trying to survive in, we will see true light like never before," Jacobs says. "That the constant threats to our foundations will cause us to examine and strengthen them, and come out the other side with stronger hearts and clearer vision. 'There will come horses, there will come voices' -- that we will be forced to show our true hand like never before because of our dire need to defend it." Elsewhere, on "Under the Big Top," Jacobs channels swampy, gritty Southern rock influences to shine a light on narrow-mindedness and lazy thinking. Crunchy riffs and a fat bass groove make the track, despite its heady message, one of the album's many songs you can't help but move to. "'Under the Big Top' is commentary on society's evolution into gullible, easily distracted, lazymindedness," Jacobs says. "'Pretty lights junkie like a moth to candle,' always distracted by the brightest, loudest, biggest, rather than remembering how to seek for ourselves and find truth and love. We instead over-consume and are given every opportunity to do so. What we end up with is a circus of sorts, with tricksters and hucksters and loud mouths with no real value taking up all of our attention and ruling us, because we are too easily manipulated." Grooves abound on Color Where You Are, as on standout track "Rooster Coop," which finds Jacobs and the band sniffing around the henhouse over greasy slide guitar, a deep, deep pocket and a truly funky bass line. "All I knew was that I wanted to write a song that merged country and funk," Jacobs says of "Rooster Coop." "We started out with the main groove of the tune and the first line that popped into my head was, 'There's something funky in the barnyard.' So naturally, I wrote a song about a scandalous love tryst amongst farm animals." Spanning rock, folk, soul and funk and drawing from inspiration that runs the gamut from the henhouse to the White House, Color Where You Are is a kaleidoscopic portrait of Cris Jacobs as a songwriter, musician and bandleader. It's the work of a devoted father and an empathetic member of the human race. More than that, it's a reminder that there's beauty to be found everywhere, if you just take a moment to color where you are. "What am I trying to do with my music?" Jacobs muses. "The simple answer is this: I'm trying to connect with people. To express real-life human emotions and make people feel things. To connect my love of music with my love of writing and conjure up all of the joy and emotions that those things bring to me. To hopefully have people walk away feeling lighter or happier or more inspired to go be a better person somehow after listening... I want to create a body of work that my family will be proud of one day, and to show that I had compassion to the human condition and wasn't just a self-indulgent show off."
King Dream
King Dream is an indie psych-rock project from Bay Area songwriter and multi-instrumentalist Jeremy Lyon. With a soulful voice, roots planted in the golden era of California psychedelia, and a wry energy that places him firmly in the 21st century, Lyon charts a path through timeless themes: disillusionment with oneself, with adulthood, with one's country — and the discovery, time and again, that somehow there's still plenty worthy of a love song.
Lyon, a Bay Area native, previously co-founded the folk-rock band Tumbleweed Wanderers, who toured the country for five years before disbanding in 2016. Inspired by songwriters like Jim James, Jonathan Wilson and Blake Mills, Lyon spent the next two years questioning and reinventing himself — and, thanks to his vocal ability and versatility, soon became one of the most in-demand sidemen in the Bay. Playing with different bands, he picked up a few things: new instruments and arrangement techniques; a love of darker textures and moody, atmospheric sounds on electric guitar. And then an invaluable collaborator- producer: Lyon credits Graham Patzner of Whiskerman with helping to shape and carry the new project from idea to reality.
King Dream's self-titled debut, out now, is a reemergence of sorts. It's also a good record for a long drive along the coast. It's about places, relationships and empires crumbling, and the possibilities that announce themselves when the dust has cleared — when you find yourself alone for the first time in a long while, and you open your mouth and see what comes out.
- Emma Silvers
King Dream blends anthemic and cosmic, bombastic and subdued, with reckless abandon and finesse.
Suzanimal
Suzanimal is a psychedelic pop project from San Francisco singer, songwriter and bassist Suzanne Galal. Inspired by her love of the Talking Heads, Sylvan Esso, and LCD Soundsystem, Galal picked up a bass guitar for the first time at the age of 30, and began writing songs soon after. The result was
Body
. Recorded at San Francisco's legendary Hyde Street Studios, it's an ambitious and surprisingly confident EP of groove-driven tracks, all topped by Galal's seductive yet light-as-air vocals. It was described by
KQED
as, "subtle, evocative and precise — swings with an attitude that's breezy yet grounded." A Suzanimal show is designed to make you lose yourself to the rhythm -- with just enough of the unexpected to keep you on your toes 'til the afterparty.